Hey there, lovely brides-to-be! Your big day is approaching, and let's face it, it's a whirlwind of excitement, joy, and a tad bit of stress. But hey, chin up! Your wedding day is a celebration of love and unity, and you deserve to look nothing short of stunning. While the dress is a big deal, let's not forget about your crowning glory – your hair!
Embrace Your Natural Beauty: African Bridal Hair Styles
Your wedding is a day to showcase your true self, and as a natural hair bride, you want to shine in your most authentic form. Get ready to be inspired by a collection of African bridal hair styles that celebrate your natural beauty and unique personality. From elegant updos to chic braids, we've got you covered.
1. Accessorized TWA: Tiny Yet Spectacular
Let's kick things off with a bang – or should I say, a tiny bang? If you're rocking a TWA (Teeny Weeny Afro), don't fret about not having enough length. Embrace the beauty of your short hair and jazz it up with a bridal hair fascinator. Picture it: you, in all your glory, with a touch of elegance atop your fabulous TWA.
2. Curly Fro: Classic and Captivating
Short to medium hair length? Check. Love curls? Double-check. This is your jam, girl. Create a mesmerizing curly fro by experimenting with bantu knots, twist outs, or rollers. Your curls will have a natural bounce that's simply captivating.
3. Teeny Weeny Afro with a Fascinator: A Floral Delight
Here's a twist on the TWA – finger coils or comb coils that exude charisma. And why stop there? Elevate your look with a bridal hair flower or a chic fascinator. It's like adding a cherry on top of your fabulous cake.
4. Colored Afro with a Side Part: Be Daring, Be You
Whoever said weddings can't be colorful never saw this coming. Let your hair do the talking with a colored afro that expresses your fun side. Leave your hair down for a casual vibe or pop on a wedding veil for a touch of elegance.
5. Blown Out Afro Puff: Crowned with Elegance
Shrinkage? No problem. Blow that afro out and grace it with a sparkling jeweled hair band. You'll be walking down the aisle with confidence, knowing your hair is on point.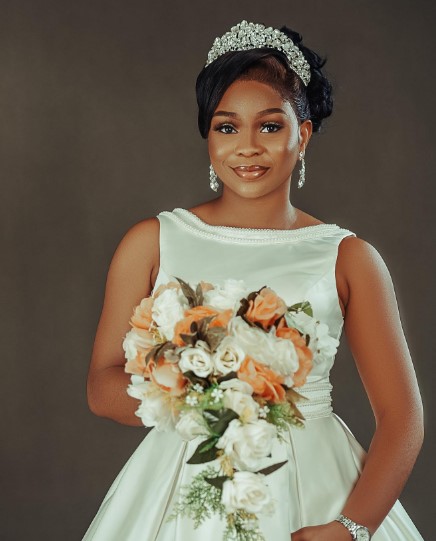 Natural Beauty: Bridal Hairstyles for 4C Hair
For my queens with 4C hair, get ready to be amazed. These styles are tailored to showcase the stunning versatility of your hair.
6. Roll and Tuck With a Headband: Simple Sophistication
This style is the definition of "less is more." Achieve a sophisticated roll and tuck look with stretched hair, and don't forget to accessorize with a charming bridal headband.
7. Roll and Tuck With an Accessory: Twice the Charm
A wedding day is a double delight, so why not double up your look? Rock a wedding veil for the ceremony, and then switch to a fabulous accessory for the reception. Two looks in one – talk about efficiency!
8. Up-Do With Cornrows: Elegance Redefined
Cornrows have a timeless charm, and they're making a grand entrance into wedding hairstyles. Sport a wedding veil for the ceremony and switch to a dazzling accessory for the reception. Oh, and don't hesitate to tweak the front for a refreshing change.
9. Classic Afro Bun: Effortless Beauty
Simplicity at its finest. Transform your hair into a classic afro bun with ease. And guess what? You can add your personal touch with a hair accessory or even a wedding veil at the back.
10. Twist Out With a Fresh Flower Wreath: Nature's Beauty
Outdoor or beach wedding? This one's for you. The twist out with a fresh flower wreath is a match made in natural heaven. Transition effortlessly from day to night by swapping your wreath for a new look at the reception.
11. High Puff Twist Out: Birdcage Elegance
Elevate your twist out with a high puff and add a birdcage hairpiece. It's a recipe for elegance that's sure to turn heads.
12. Flat Twists With a Twist Out Up-Do: Unleash Creativity
Flexibility is key with this style. Enhance it with bridal hair jewelry to make a statement. And remember, you can transform the loose part into a new style for the reception – double the glam!
13. Twisted Mohawk: Effortlessly Chic
Why settle for the ordinary when you can rock a twisted mohawk? Perfect for weddings and everyday life, this hairstyle gets an upgrade with a birdcage hairpiece.
14. Frohawk or Afro Patewo: Bold and Beautiful
Make a statement with a frohawk! Leave the middle of your hair loose for easy styling. Add some hair rings on the cornrows for a dash of flair.
15. Cornrow Fro Hawk: Embrace Your Crown
For my queens with 4C hair, this cornrow fro hawk is a head-turner. Embrace your crown with confidence and enhance it with hair jewelry or your chosen accessory.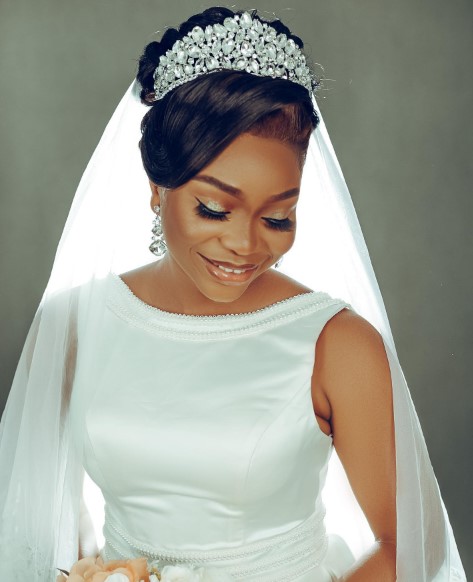 16. Flat Twist Up-do: Mae's Marvel
This iconic style adorned Mae's wedding day – and it can grace yours too. Long hair or kinky hair extensions? You've got options. Add a bridal hair brooch for an exquisite finish.
17. Roll and Tuck on Stretched Hair: Looser and Lovely
If Mae's style caught your eye, you'll adore this similar yet looser version. Achieve it yourself or with a hairstylist's magic touch. It's effortlessly chic and full of volume.
18. Up-Do With Kinky Hair Clip-Ins: Instant Length and Glam
Short hair, don't care! With kinky hair clip-ins, you'll have length and style aplenty. Elevate your look with a touch of bridal jewelry.
19. Cinnabun: Timeless Elegance
Pressed for time? Fear not. The cinnabun is here to save the day. Enhance its charm with rhinestone wedding pins for a touch of elegance.
20. Side Sweep Up-Do: Glamorous Flow
Take elegance up a notch with the side sweep up-do. Top it off with a bridal headband for that extra touch of glamour.
21. Side Sweep Up-do with a Bump: Pure Elegance
Elegance at its finest. The side sweep up-do with a bump is pure sophistication. Add a bridal hair accessory, and you're set to dazzle!
African-American Elegance: Hairstyles for Type 3 Hair
Brides with type 3 hair, get ready to swoon. These hairstyles are tailored to complement your hair's unique texture.
22. Vintage Finger Waves: Timeless Glam
Travel back in time with vintage finger waves. They're elegant, they're classy, and they're perfect for your special day.
23. Curly Up-Do With a Tiara: Modern Royalty
Feel like the queen you are with a curly up-do paired with a delicate tiara. It's modern royalty at its finest.
24. Romantic Half-Up Curls: Elegant Playfulness
Combine romance and playfulness with this half-up curl. Let your curls flow freely while the rest is elegantly styled up.
25. Curly Ponytail With a Twist: Chic and Sleek
Turn a simple curly ponytail into a statement hairstyle. Add twists and turns to your ponytail and adorn it with bridal accessories.
26. Polished Bantu Knots: Chic Precision
Bantu knots are all about precision and style. Polish them up for your big day, and you'll rock a look that's chic and sophisticated.
27. Curly Chignon: Understated Elegance
Less is more, and the curly chignon proves it. This understated hairstyle is the epitome of elegance.
28. Braided Crown With Curls: Regal Beauty
Show off the regal side of you with a braided crown that beautifully complements your curls. It's a match made in bridal heaven.
29. Classic French Twist: Timeless Charmer
When in doubt, go with a classic. The French twist is a timeless charmer that exudes grace and confidence.
30. Cascading Curls With Flower Pins: Whimsical Delight
Let your curls cascade down your shoulders in this whimsical hairstyle. Adorn them with flower hairpins for a delightful touch.
Gorgeous African Bridal Hair Styles: The Final Word
Your wedding day is a celebration of love, unity, and your unique beauty. Whether you're embracing your natural hair, showcasing your 4C curls, or celebrating your type 3 texture, these African bridal hairstyles offer a plethora of inspiration for your special day. Remember, you're radiant, you're exquisite, and you deserve to look and feel like the queen you are. Here's to a day filled with love, joy, and the magic of beautiful hair!