When it comes to your wedding day, every detail matters, especially your hairstyle. It's like the crown that perfectly complements your wedding attire, accentuates your beauty, and makes you feel like the queen you are. Hey there, lovelies, let's dive into the world of bridal hair styles for black ladies that are nothing short of captivating and enchanting!
The Elegance of Up-do Hairstyles: A Classic Choice
Whether your wedding is an intimate affair or a grand celebration, you can never go wrong with the timeless elegance of an up-do hairstyle. It's like a canvas waiting to be adorned with your unique style and personality. Choosing the right wedding hairstyle involves a blend of factors, from the theme of your wedding and its location to your personal style and, of course, the dress that will make you shine. So, don't hesitate to collaborate with your hairstylist to curate a look that reflects your essence.
Unveiling the Up-do Magic: 30 Classy Choices
As we take this bridal hair journey, I'm thrilled to share with you a lineup of 30 magnificent up-do hairstyles for our fabulous black brides. Get ready to be amazed by an array of styles that will leave you breathless and ready to walk down that aisle in style.
Embrace Your Natural Beauty with Afro Elegance
Let's kick things off with an absolute showstopper – the Afro with a Clip. There's an undeniable allure to a soft, natural fro that celebrates your black heritage. This look is all about embracing your roots and making a bold statement. Adding a jeweled clip takes this style from fabulous to absolutely breathtaking.
Regal and Feminine: Finger Wave Updo With Tendrils
Imagine delicate finger waves cascading into a regal updo. This is pure elegance meets modern chic. The intricate details and wispy tendrils framing your face create an unforgettable bridal look. And guess what? You can personalize it with a touch of color, like honey blonde or ash blonde highlights!
Vintage Charm: The Tuck N' Roll Updo
For those craving a touch of vintage charm, the Tuck N' Roll Updo is a delightful choice. It's simple yet captivating, giving a nod to the classics. Adding a dainty hairclip lets you infuse your personality into the style, and it's perfect for both traditional and vintage wedding vibes.
Bouncy Curls: The Curly Wash N' Go Magic
Who said wash n' go is just for casual days? This style proves that with the right accessories, a wash n' go can become an exquisite bridal masterpiece. Embrace those natural curls and add a bold gold headband for a look that screams confidence and elegance.
Curly Allure: The Curly Updo with Deep Side Part
If sleek and sexy is what you're after, the curly updo with a deep side part is your answer. The part creates a swooping bang that frames your face, and adding flowers or a chic hair clip elevates the glam factor. It's a style that exudes confidence and charm.
Enchanting Cascading Waves: Long Waves with a Deep Side Part
There's a certain allure to long cascading waves, dancing in the wind as you make your way down the aisle. The deep side part adds a touch of glamour, framing your face in the most flattering way. This style is pure romance and elegance.
A Regal Textured Crown: Textured Updo with a Crown
For those who feel like royalty, the textured updo with a crown is your calling. It's a true statement piece, featuring laid edges, a pompadour, and a crown that tops it all. If you're a lover of all things natural and regal, this is the style for you.
Fiery Elegance: The Red Tuck N' Roll Updo
Who says you can't turn heads with fiery red hair on your wedding day? The red tuck n' roll updo defies conventions and delivers elegance with a bold twist. With intricate details and fiery passion, you're sure to steal the spotlight on your special day.
Spiraling Beauty: The Spiral Loc Updo
When it comes to showstoppers, the spiral loc updo takes the cake. The texture of the spiral locs adds a unique dimension, and the delicate flowers are the perfect finishing touch. If you're rocking locs, this style is an absolute winner.
Effortless Charm: Layered Loose Ringlets
Effortlessly gorgeous – that's the essence of the layered loose ringlets. It's modern, classy, and frames your face in the most flattering way. Let your natural beauty shine through with this charming, face-framing style.
Vintage Flair: Simple Finger Wave Updo
Luxe, glam, and sleek – the simple finger wave updo brings vintage flair to the forefront. These waves tell a story of timeless beauty, perfect for brides who want their hair elegantly swept up and out of the way on their big day.
Angelic Allure: Long Loose Curls
Channel your inner angel with the long loose curls that grace your shoulders and cascade down your back. It's a vision of pure luxury, and the delicate headpiece adds an enchanting touch. This style is a symphony of elegance and grace.
Understated Beauty: The Low Textured Bun
Sometimes, simplicity is the ultimate sophistication. The low textured bun is proof of that. It's a canvas that lets your face take center stage, and you can accentuate it with stylish accessories. Clips, crowns, or head chains – the choice is yours!
Embrace Your Afro: The Bridal TWA
Who said a Teeny Weeny Afro (TWA) can't be a bridal showstopper? Adorned with a dainty headpiece, the TWA takes on a whole new level of elegance. It's a celebration of your unique beauty and individuality.
Curly Delight: The Super Curly Low Bun
If you're all about the curls, the super curly low bun is your dream come true. It's a symphony of texture and volume, with curls cascading down the sides and a bun that's pure elegance. The floral headpiece adds a touch of romance to the look.
Effortless Chic: The Curly High Bun
Effortless and stunning – that's the magic of the curly high bun. It's as easygoing as it is captivating. Gather your curls, secure them at the crown, and let a few tendrils escape. It's a style that captures the essence of modern elegance.
Braided Beauty: Twist Braid Updo
Who says braids can't be wedding-worthy? The twist braid updo combines braids and luxury in a seamless fusion. The twists frame your face, adding texture and depth to the style. Choose this one if you're ready to be the center of attention!
Crowned Glory: Crown Twist Braids
Embrace your inner queen with crown twist braids that truly make a statement. These twist braids wrap around your head, creating a regal crown effect. It's a style that exudes power, beauty, and sophistication.
Bigger is Better: Jumbo Low Bun with Curls
If you're aiming for a larger-than-life style, the jumbo low bun with curls is your answer. It's a celebration of volume and glamour, with cascading curls on the sides adding a touch of femininity. Get ready to own the spotlight with this stunning choice.
Short and Sweet: Pixie Cut with Accessories
Short hair, don't care! The pixie cut is a canvas for minimalist beauty, adorned with soft curls, laid edges, and a delicate headpiece. If you want to frame your features and make a bold statement, this short and sweet style is perfection.
Timeless Class: The Chic Low Bun
Elegance and class meet in the chic low bun. This style takes the standard low ponytail and transforms it into a work of art. With added extension hair, curls, and a decorative pin or tiara, you're ready to walk down the aisle in style.
Natural Elegance: The High Puff
The high puff, a beloved casual style, gets a wedding makeover with the addition of a floral clip. Embrace your natural curls and make a bold statement that's both chic and carefree. It's perfect for brides who want to let their curls shine.
Greek-Inspired Sophistication: Flat Twist Halo Braids
Evoke a touch of Greek goddess vibes with the flat twist halo braids. This look combines sophistication with softness, framing your face in the most enchanting way. If you're drawn to romantic, boho-inspired aesthetics, this is the one for you.
Attitude and Glam: High Side Puff
Add a dash of attitude to your wedding ensemble with the high side puff. It's a celebration of black beauty and individuality, accentuating your features and adding a touch of sexiness with loose curls in the back. Get ready to rock this confident style!
Boho Romance: Faux Loc Halo Braid
Capture bohemian romance with the faux loc halo braid. Dutch braids create a spiral pattern, adorned with leaf-themed hair accessories that exude earthy charm. If you're a fan of locs or faux locs, don't miss out on this ethereal look.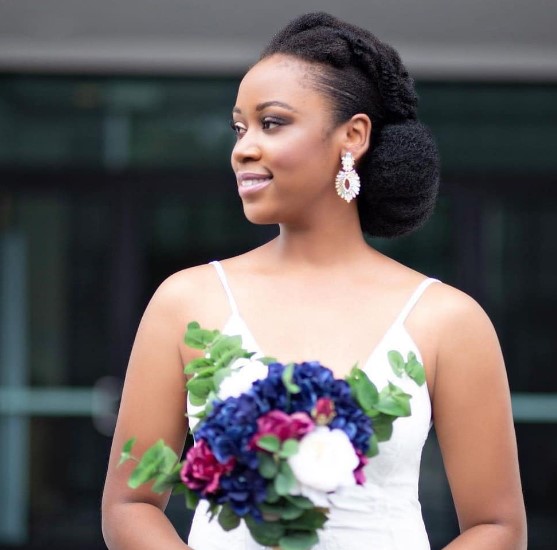 Twisted Beauty: Pinned Up Twists
Twists are timeless, and this style elevates them to new heights. Two-strand twists pinned up in the center, with flat twists along the sides, create a textured masterpiece. The wire floral piece adds a touch of whimsy, making this style a true winner.
The Crowned Beauty: High Bun with Top Swoop
Let's talk about dainty and feminine – the high bun with a top swoop is elegance at its best. This style harmoniously combines the grace of a high bun with the allure of delicate hair jewelry. It's a natural, refined look that's perfect for your wedding day.
Embrace Minimalism: The Slick Back
Less is more, and the slicked-back hairstyle embraces this philosophy wholeheartedly. Short hair, slicked back, adorned with a stunning crown – it's minimalist beauty at its finest. If you're a lover of simplicity and elegance, this style is a must-consider.
French Elegance: French Braided Low Bun
The French braided low bun is the embodiment of elegance and sophistication. French braids converge to create a charming low bun, and small studs add the perfect touch of sparkle. It's a choice that radiates grace and poise.
Unique Glamour: Long Side Fishtail Braid
Uniqueness takes center stage with the long side fishtail braid. Side-swept hair meets a distressed fishtail braid for a look that's both daring and enchanting. If you're a fan of unconventional styles, this one is bound to captivate you.
Bold and Playful: Bubble Mohawk
Are you ready to make a statement? The bubble mohawk is all about fun and individuality. Bubble-like sections create a distinctive mohawk, showcasing your vibrant personality. It's a choice that's as bold as it is playful.
Braids Reimagined: Twist Braid Updo
Here's a twist on the classic twist braid updo – quite literally! This updo features intricate parting, twist braids, and a substantial bun in the back. The result is a style that's perfect for the modern black woman's wedding day.
Box Braids Elegance: Box Braid Updo
Elevate box braids to a whole new level with the box braid updo. Twisted and pinned up, these braids radiate sophistication. Adorned with a delicate hair clip, this style seamlessly transitions from casual to formal, making it perfect for your big day.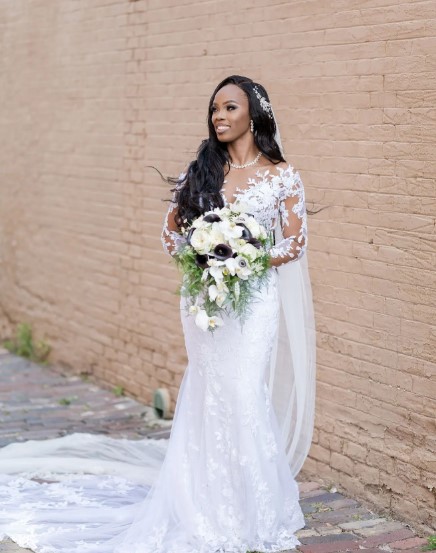 Short and Sweet: Super Short Tapered Cut
Who says short hair can't be wedding-worthy? The super short tapered cut is a celebration of your natural curls, framing your face beautifully. With the right accessories, like a veil or a stylish headband, you can create a look that's uniquely you.
Effortless Sophistication: Straight Updo with Waves
Radiate effortless sophistication with the straight updo featuring waves. The pearl accents and thick side bangs create a look that's both refined and romantic. It's a style that's sure to complement any wedding dress or theme.
A Touch of Sophistication: Short Bob with Bangs
If you're a fan of bobs, the short bob with bangs is a modern twist on a timeless classic. The bangs frame your face, drawing attention to your features, while the rest of the hair grazes your cheekbones. It's a look that's all about embracing your essence.
Loc Elegance: Colored Loc Bun
For our loc'd beauties, the colored loc bun is a work of art. Twisted locs arranged into an intricate bun, adorned with crystals – it's a celebration of texture, color, and individuality. This style embodies the essence of elegance.
Playful Texture: Updo with Basket Weave
Last but not least, the updo with basket weave is a playful and unique choice. With a tiara up top and a basket weave texture in the back, it's a style that's both sleek and fun. Embrace the best of both worlds with this captivating option.
Radiate Beauty on Your Big Day
There you have it, a mesmerizing journey through 50 exquisite bridal hair styles for black women. From Afro elegance to unique twists and braids, each style tells a story of beauty, confidence, and individuality. So, whether you're drawn to classic elegance or daring creativity, remember that your wedding day is your canvas. Embrace your beauty, celebrate your essence, and let your hairstyle be the crown that makes you shine as you walk down that aisle.